Writing style for research papers in the field of social science
The most commonly used style of writing research or an academic paper in the field of social science is APA style prescribed by the American Psychological Association. It has been in use since a long time and has evolved over the period with electronic information currently available. Some of the basic guidelines in using APA style of formatting are:
The margins on all sides of the page must be 1 inch wide.
The font size must be 12 point in Times New Roman.
Spacing all throughout the paper must be double including tables, appendix, citation etc. After punctuations, commas and columns there must be one space.
Running heads must not be more than 50 words and running heads must not be confused with short titles. Running heads are mandatory for research publications, while they are not mandatory for high school and collegiate papers.
The sentences must be stated in active voice and pronouns like I, we must not be used.
The page number must appear on right hand top corner of every page.
The title page must contain only title of the paper, name of the author, institutional affiliations and author note if any. The title page would be page number 1. The abstract must be written in Page 2.
At the end of the report come Citation & References, Appendix, Footnotes, Tables and Figures.
Some of the common errors students do while writing in APA style are running head and page numbers, abstract, keywords, in-text citations and other small errors. Many of the students forget to add a running head or add it in an improper format. Many students also fail to add an abstract. This is why it is best to hire formatting services wherein the professionals can ensure that your work carries the perfect formatting as per specified by your university. Keywords must be added right below the abstract which are very important because they are used in search engines and indexing services. In-text citations must be properly place with parenthesis and spellings.  A sample bibliography example is given here below.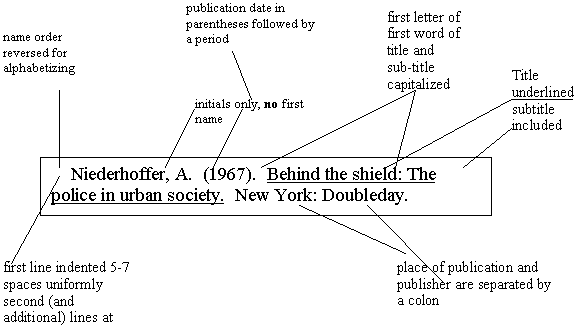 Fig: Sample Bibliography example for APA style.
---